Hello! I've been trying to dump and emulate my old HASP HL for the past week or so, and today is the day I give in and ask for help lol.
I tried to use HASPHL2010_x64 to detect the HASP passwords, but even after about over half a day of use, only three dongle passwords came up, and none of the dumps were valid for further processing. I'm assuming that means they were incorrect? Afterwards, I dumped the dongle with various mysterious software.
I have a plethora of dumps, reg files, and 2 USBtrace logs: one for plugging the dongle in, and one for plugging the dongle in, then opening the protected software. Is there a way to get the passwords out of these, and consequently, a file I can use to emulate the dongle? Please help me dump this bedongled demon!!

Last edited by Legendmaker12 on Thu May 31, 2018 4:53 am; edited 4 times in total

Legendmaker12




Posts

: 4


Points

: 6


Reputation

: 0


Join date

: 2018-05-30



use this
http://exetools.team-talk.net/t902-basic-srm-backup-tutorial
to get HL pass and dump SRM with my dumper.
also need find AES since soft seems be only use old api that can be emulated with old ways.
and delete from public all data, because you may be in problems shown your dongle data.
and beware of people offering their services free, they are scams.
Legendmaker12,
where is bedongled demon link?
what reason are you edited the post 4 times?

hasp




Posts

: 452


Points

: 625


Reputation

: 165


Join date

: 2011-12-16




prenumele




Posts

: 152


Points

: 216


Reputation

: 45


Join date

: 2010-09-11



Hey, I dumped it following ovis25's post, thank you very much for your extremely helpful post! Many helpful and friendly direct messages from you guys.

However, I'm having difficulty formatting the reg file to fit MKbus, since the program spawned two reg files: a DTable and an ETable. I'm assuming they're necessary, how do I make MKbus recognize these?

Thanks in advance!

Legendmaker12




Posts

: 4


Points

: 6


Reputation

: 0


Join date

: 2018-05-30



is SRM no public emulation possible, mkbus does not support, tables are SRM Tables not HL D / E tables.
These are the files I generated, the top two were generated at the same time, and the SRM tables were generated together at a separate time from the first two. Are they all no good?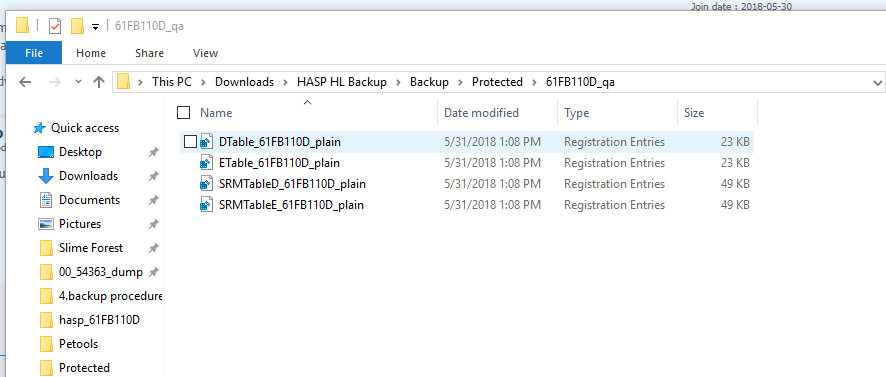 Legendmaker12




Posts

: 4


Points

: 6


Reputation

: 0


Join date

: 2018-05-30



you need extract AES HL pass and all tables inside.

also one usbtrace log with hot plug is required.

you soft use old .protect envelope possible emulate.

send data in private to avoid problems if want to of course.
I actually already made two USBTrace logs, both of which were hot plugged! 
A few questions for you:
Is the AES HL pass the same as the Vendor Sessions AES? Also, how can one remove the HASP SRM Envelope? Also, how am I to use this USBTrace log?
I'd be fine with starting a private discussion in the DMs if it'd be convenient for you! I'm googling stuff like crazy trying to keep up with you tech guys


Legendmaker12




Posts

: 4


Points

: 6


Reputation

: 0


Join date

: 2018-05-30





Similar topics
---
Permissions in this forum:
You
cannot
reply to topics in this forum